''Fear will never leave': Budgam siblings together in life and death
In the hush of the Saturday evening, Nighat Farooq was sitting with her mother-in-law at their residence in central Kashmir's Budgam when two pheran-clad men entered the house and rushed upstairs.
The women came to know of their presence when they heard the noise outside the room, at about 8 pm. The gun-wielding men had dragged Ishfaq Dar, a 24-year-old special police officer, from his room. "[When we came out] we saw them beating Ishfaq," said Nighat, 28, Ishfaq's sister-in-law. "When he resisted, they fired bullets at him."
Ishfaq's younger brother, 20-year-old Umer, stood in utmost fear. Amid a deafening silence followed by the gunshots, Umer and Nighat gathered their senses and ran after the men to the gate. 
"I kept asking their identity and why they killed him," Nighat told The Kashmir Walla recalling the event. "At the gate, they shot at Umer — and left." For the next 30 minutes, Nighat sat beside the two siblings: one dead, another half-dead. "I kept asking Umer if he knew them but he denied."
Their mother kept shouting at the road for help. "Everyone had closed their doors. They were scared," she recalled. 
Ishfaq was shot dead by suspected militants while Umer was shifted to a premier hospital in Srinagar, where he bled to death the next morning. This was the third attack in the Budgam district in a month. Police have registered a case and started an investigation.
Nighat, who is an eye-witness to both the killings, said she could never imagine witnessing the bloodshed closely. "I cannot get it out of my head," she said, visibly uneasy. "They were just like my brothers. I can never forget them."
For her, however, fear remains beside the trauma. Her husband, Aijaz Dar, the elder brother of Ishfaq, is a serving J-K Police constable.
"When [gunmen] can kill a civilian [Umer], they can kill my husband anytime," Nighat said. "The fear will never leave me now."
Blood and brothers
In a room full of mourners, Ghulam Dar, the slain siblings' father, was sitting quietly as he stared into nothingness. He had just returned after the funeral of his sons on Sunday morning.
"I had thought their shoulders would carry my coffin," he said, breaking his silence. "Instead, I carried theirs." 
Ishfaq was shot in the head from a close range while Umer had received bullets on his foot and near his stomach, said Ghulam Dar. "Flesh from one side of Ishfaq's face was peeled off," he added, "Umer's liver suffered damage. " Rameez Raja, their brother, also a special police officer, said, "We tried to save him [by giving blood] but he didn't survive."
Until last week, the Dar brothers were sharing the same desk. Now, they lie buried in adjacent graves, 150 meters from their home.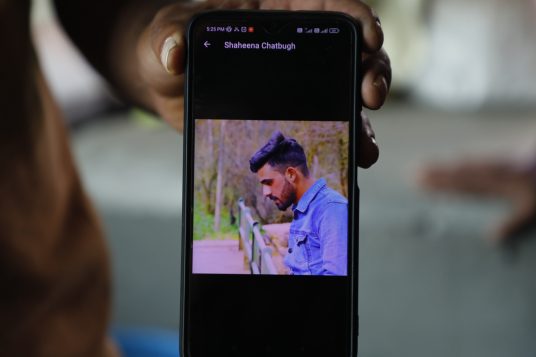 Ghulam Dar, who worked as a laborer, saved to educate his five children. "I have built this house on loan and even sold my wife's property to educate our children," he said.
"They were doing a diploma in Stenography," said Raja. "They were really close with each other and would do everything together. They were more friends than brothers." Umer had recently graduated in Arts and joined his brother in the diploma.
For him, Ishfaq was a mentor. "Ishfaq would teach Umer lessons of adulthood and helped him with his work," he said, adding that they had their own printing service. "They would print banners, charts, and maps [for schools]. Their last banner was still under design."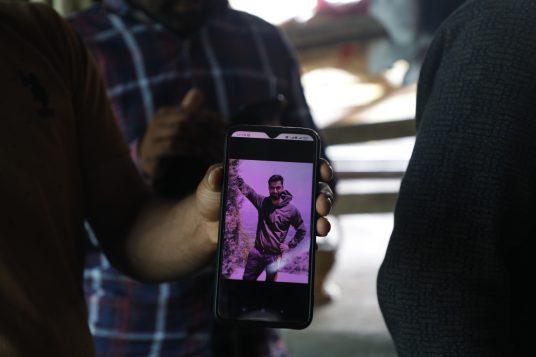 The Dar residence was filled with mourners while a tent next to their house was reverberating with screams and wails. "They wouldn't even talk with anyone," said one of the local residents. "They were so good and decent."
The incident was condemned by unionists as well as Jammu and Kashmir Lieutenant Governor Manoj Sinha. Condemning the attack, Sinha said: "[My] deepest condolences to the family in this hour of grief. Those behind this despicable attack will not go unpunished."
Mehbooba Mufti, former chief minister and president of the People's Democratic Party (PDP), said in a tweet: "In Kashmir, we watch helplessly as young lives are snuffed out. Death [and] destruction have become the norm. Sadly GOI doesn't seem to care since Kashmiri lives have little value for them. [My] deepest condolences to the family."
On Sunday, senior police officials, including Kashmir police chief Vijay Kumar and Senior Superintendent of Police (SSP) Budgam, visited the family and paid condolences.
But as Dar sits at his home, he is still looking for an answer: "Why were my sons killed?"
"Give us justice. They [government] should investigate. This is all I want to say."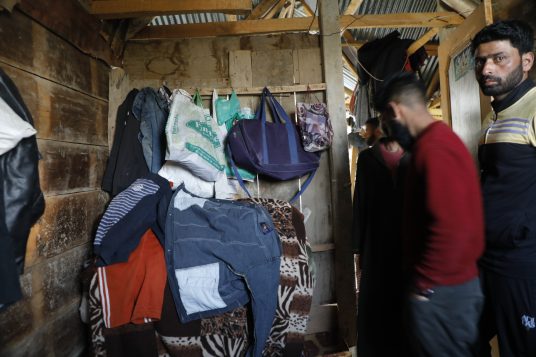 Gafira Qadir | The Kashmir Walla