In Pictures: Locals gather to witness as Bringi river vanishes in a sinkhole
In his thirties, Mohammad Ashraf Sofi was amazed when he first saw a video of a stream disappearing into a "hole" on his social media feed.
Sofi called up his two friends, and the trio planned a trip to South Kashmir's Wan-Devalgam.
The sensational reporting of this occurrence had only intrigued him more, and on his motorcycle, Sofi travelled over 100 kilometres, to catch the disappearing river.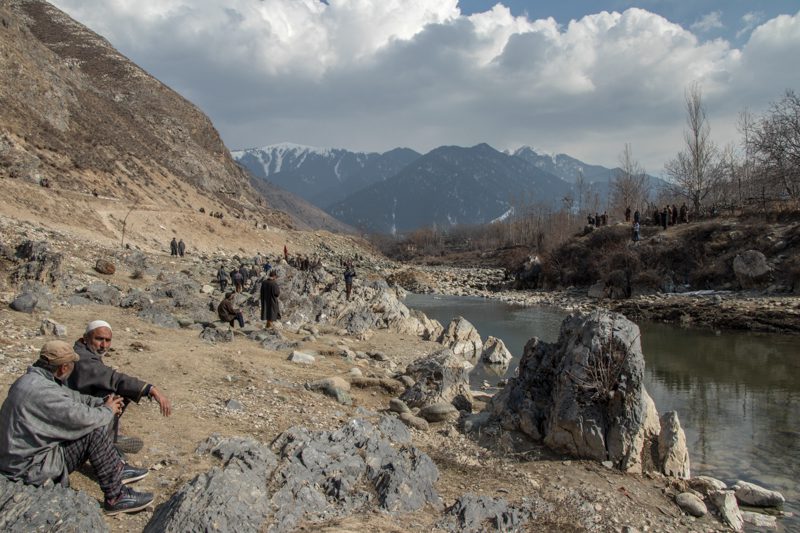 Men are seen resting on the banks of Bringi Nallah in Kokernag, in South Kashmir. [FPK Photo/Vikar Syed]
Despite the authorities imposing Section 144 in the locality, this time, for all the different reasons, many others like Ashraf have been thronging the site of the sinkhole, which is located about ten kilometres from Kokernag, a spring known for its freshwater and rainbow trout.
An armed forces personnel stands deployed near Bringi river banks. the administration has imposed Section 144 in the locality. [FPK Photo/Zainab]
The formation of the sinkhole has been devouring the Bringi Nallah. Bringi has been a source of sevral springs, and the name has appeared on packaged drinking water bottles which has its plant based in Kokernag.
An elderly person cross a barbed wire fence as he walks towards the sinkhole site near Bringi river. [FPK Photo/Zainab]
"Every time we would go to Bringi, it was a custom to bring home tresh from the stream," said a local from South Kashmir's Khudwani.
Located in South Kashmir, Bringi Nallah is the source of sevaral springs that are spread across the length and breadth of South Kashmir. [FPK Photo/Zainab]
In Wandewalgam, this famous Nallah has now been flowing into the sinkhole since last six days, as the cavity appeared last week.
"This is entirely natural phenomenon. Throughout South Kashmir, limestone is present in abundance. And when limestone reacts with water, the rocks develop cracks and get dissolved, leading to formation of huge cavities," a researcher from NIT team present on ground explained.
"This is not an overnight process," he further explained, saying that it would have taken decades for a cavity as huge to form.
A student takes field notes near the site of the sinkhole that has been swallowing Bringi river. [FPK Photo/Zainab]
While speaking with Free Press Kashmir, Prof. Ghulam Jeelani, Head of Department of Earth Sciences Kashmir University said that there is a link between the occurrence of Springs and sinkholes in South Kashmir.
"In Anantnag, underground caves are formed in regions which have carbonated rocks. Springs like Achabal, Verinag, Kokernag et cetera have this type of rock present. It is the cavernous rock network underneath these springs that maintains the flow of water in the springs," he added.
Commenting on the recent incident, the professor suggested that the cavity is not be filled, "and that is what I have suggested to administration," he said.
"We need to immediately figure out where the water is going." he added.
A small crowd of people has gathered to get a glimpse of the sinkhole near Bringi river. [FPK Photo/Vikar Syed]
"The water level in Achabal has not increased, which means that it has localised somewhere else. Localised stores are dangerous, and can cause flash floods. It may collapse and cause downstream flooding," Jeaalni said.
Jeelani further suggested that the water should be diverted as well to avert disaster.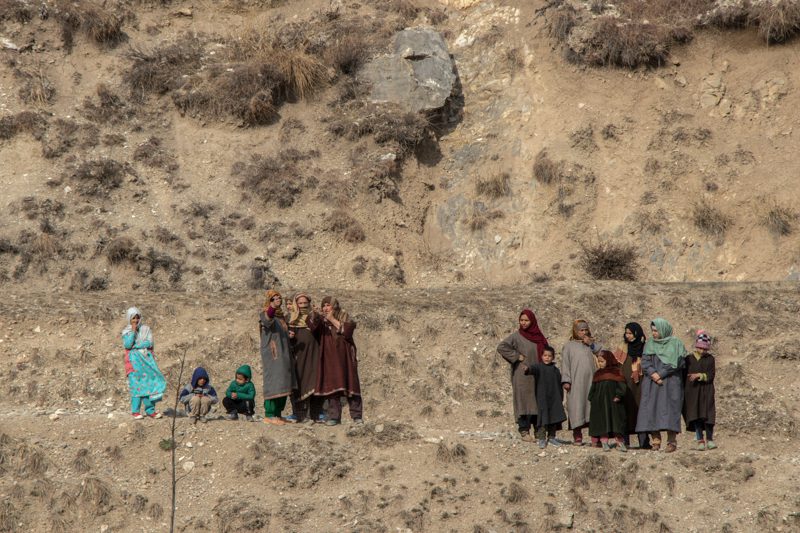 A small crowd of women and children near the site of sinkhole in South Kashmir. [FPK Photo/Zainab]
In his sixties, Abdur Rahman Rather, grew up alongside the Bringi nallah, and he too had come to get a glimpse of the "Godly miracle."
Rahman and the other elderly people in the crowd recalled memories of seeing a similar sight in their childhood.
"Three decades ago, a snow avalanche caused a similar cavity that swallowed the Bringi nallah," recalled Rahman.
"It wasn't as deep, but longer. The cavity was filled with cement and boulders by the then ruling administration and the stream flowed across its course," he added.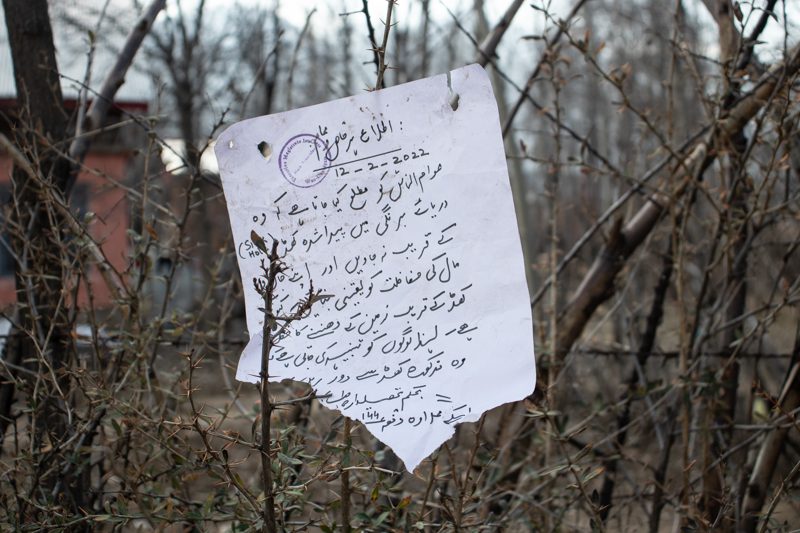 A handwritten urdu note that warns people to not go near the sinkhole has been put up near river banks. [FPK Photo/Zainab]
Ruling out the linkages between climate change and sinkholes, Professor Jeelani emphasised on studying the South Kashmir region in detail, "so that we know that there are no constructions happening over sinkholes," he said.
"That can prove disastrous. So mapping of underground caves is important," Professor suggested stressing upon the importance of it to avoid loss of lives and property.
"Once we have the map, it will become a guide for the authorities where they should go for infrastructural planning and avert disasters," he said.
When the technology was not so advanced, Rahman could recall that it were the manual labourers who filled the cavity that formed in the same region three decades ago, and it took them about a week to fill it.
"It is strange that after so many years and advancement in technology, it is taking administration so long to act," he added.
As the river flows down the sinkhole, the villagers are also concerned that the change in its course might affect the agricultural lands that were dependent on the river for irrigation.
Women walk towards the site of sinkhole in South Kashmir's Kokernag. [FPK Photo/Vikar Syed]
Zainab | Free Press Kashmir