Shutdown Observed in Parts of Kashmir Against Ongoing 'Eviction' Drive
Srinagar: A partial shutdown was observed in Kashmir valley on Wednesday against the ongoing demolition drive being carried out by the authorities to retrieve state land in the region.
Shops and commercial establishments were shut in old parts of Srinagar and the commercial hub of Lal Chowk and in several parts and towns across the valley as a mark of protest against the drive that many have called a means to disempower the residents. 
Some of the shopkeepers later opened their respective shops during the day, however, a majority of them continued to observe the strike. Many of them alleged that they received calls from the authorities to open their shops but could not be verified independently. The locals said that they were observing the strike after Hurriyat Conference called for the Hartal to be observed today. There was, however, no Hurriyat communication that could be verified independently.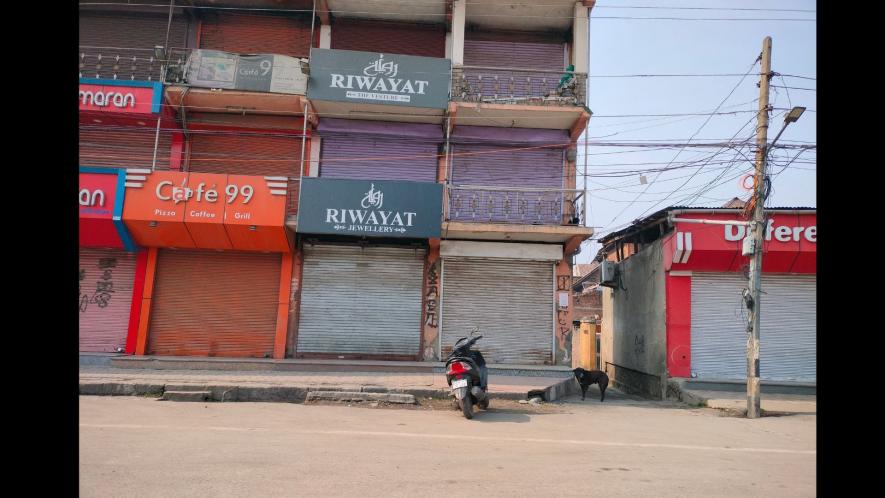 "It is not a big matter like Article 370 or statehood. This concerns our own livelihood, home and families so we observed the strike even if they (authorities) threaten us against it," a shopkeeper from Srinagar's old city area told NewsClick. 
Today's strike is the first major reaction from locals against the drive which began in January. The political parties, civil society members and trade leaders have vehemently opposed the "anti-encroachment" exercise that they saw as "arbitrary" and "divisive". 
Even as the administration maintains that it will not affect the poor and marginalised but is going after "big sharks" and "land mafia", many in the region have claimed that the former is also facing evictions. 
Speaking against the drive, People's Democratic Party (PDP) president Mehbooba Mufti urged people to resist the authorities arguing that the land belongs to the residents. 
"I am asking people to take control of their own land irrespective of whether the land is designated State Land, Custodian, Kahcharai (Grazing land) or Shamlat (Common Land). They would call us 'anti-nationals' before and now they are calling people 'encroachers'," Mufti said at the party headquarters in Srinagar. 
The former chief minister also expressed resentment over the Income Tax raids at the BBC office in New Delhi claiming that it is a result of 'deliberate hooliganism' throughout the country. 
"What happened to BBC is the continuation of something that has been happening to the journalists in Jammu and Kashmir for the last three years. Unfortunately, when it was happening to journalists here, the national and international media remained silent and now they (the government) are repeating it," she said. 
The political parties including the National Conference, the People's Democratic Party, the Apni Party and the Democratic Azad Party have held protests against the drive across the union territory. There has been an unverified threat issued by a militant outfit against the drive which has escalated the situation in the region.